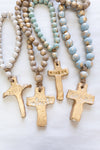 Make-Your-Own Blessing Beads
Atlanta Friends!  I have limited spots for your kids to come to my studio and make Blessing Beads!  We love this project for grandparents. 
Let their little hands create a special cross and we will finish the strand with the color of your choice.  
I will reach out to coordinate our time in the studio.