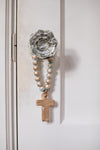 Bitty Turquoise
Shipping calculated at checkout.
Bitty Blessing Beads® are the smallest size we make. They are small enough to fit in your hand! Who wouldn't love to receive this sercy?
Warm TURQUOISE and white with brushed gold accent beads, gold cross or heart pendant. Approximate length 7.5".
All blessing beads are handmade so please expect variations.  Includes Blessing Bead card and gift bag.